About Us
The SMU Shop is our very own concept store stocking a wide range of exclusive university merchandise, memorabilia and limited edition items celebrating the SMU Brand.

In line with our sustainability framework, we are moving towards responsible sourcing and production with the inclusion of more eco-friendly products. We also embrace the enterprising spirit of our SMU students by diversifying our offerings to include products from their business ventures. More than just a shop, The SMU Shop is the representation of SMU's identity, spirit and pride.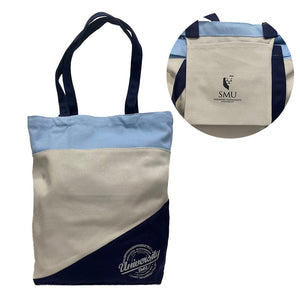 For A Cause


The SMU Shop exemplifies our values in diversity and inclusion by providing the platform to showcase products that are designed by persons with special needs. Through collaboration with NGOs and social enterprises, we offer them work engagement opportunities that encourage independence and integration into society. Create your impact in the community and make a difference as you shop for a cause!
Learn More
Sustainability


The SMU Shop is proud to showcase a range of merchandise created by our own student and alumni entrepreneurs and the enterprises founded by them. In offering their innovative products here, we celebrate the tradition of creativity and entrepreneurship that SMU is known for. We are sure that you will find something useful and attractive here that truly embodies the spirit of SMU!
Learn More